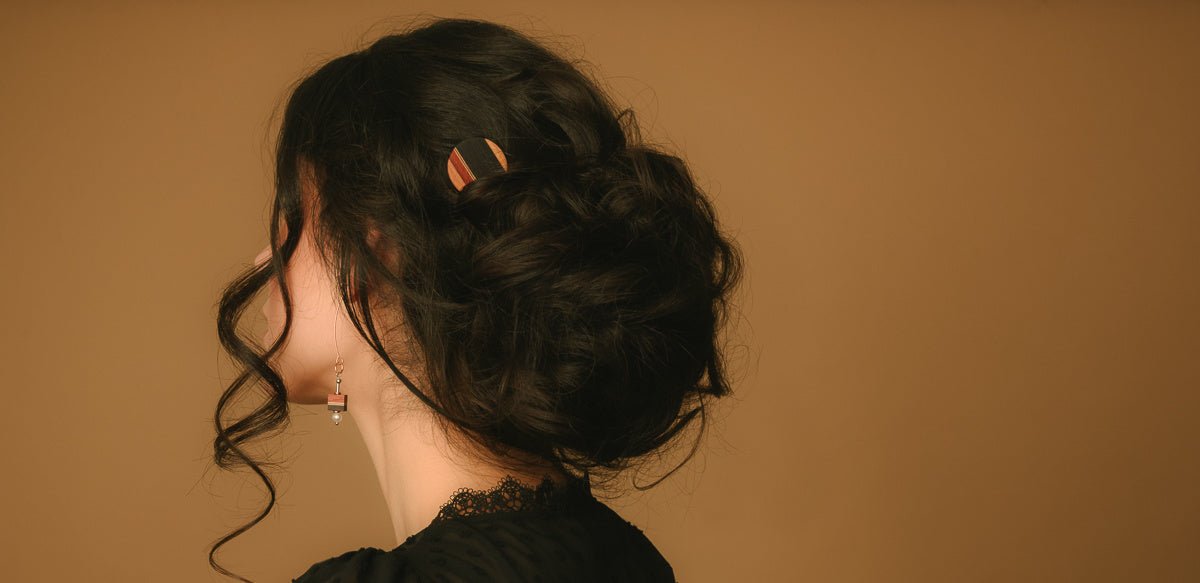 Hair Accessories Guide: Discover the Art of Hair stiks
When choosing a hair stick, consider the length and thickness of your hair, as well as the style you want to achieve. Mid-length or fine hair may require a smaller hair stick, while long, thick hair may require a longer, sturdier hair stick.
Whether you opt for simple hairstyles or more elaborate looks, this versatile accessory will add a touch of elegance to your style. Don't hesitate to experiment, follow our tips and give free rein to your creativity. Have fun using the hair sticks and transform your hairstyle into a real hair masterpiece!
Explore the endless hairstyle possibilities you can achieve with these classic wooden hair sticks
The classic wooden hair stick is the epitome of simple elegance.
It's simply a wooden stick, but its use is much more complex. Lovers of Japanese-style hairstyles love them for their ability to create impeccable updos. What makes them so popular is their natural look and durability. Wooden hair sticks suit a variety of hairstyles, and they're ideal for a casual or bohemian look.
Discover how double legged hair stick can add an element of style and strength to your hairstyles.
If you're looking for strong hold for your hairstyles, double tab hair sticks, also known as French bobby pins, are a great choice. These special stainless steel pins feature two U-shaped legs, which sets them apart from regular bobby pins. Their design provides better stability and a stronger hold to hold your hairstyles in place, whether for a busy day or a special evening. Ideal for thick and heavy hair.
Discover how these versatile wands can help you create stylish hairstyles, whether for a casual day or a special occasion.
Our three-legged hair sticks embody the perfect fusion of the durability of stainless steel and the natural warmth of wood. Designed to add a touch of elegance to your hairstyle, they stand out from other types of hair sticks. Shorter than our classic models, they are specially adapted for fine, thin or mid-length hair. Their unique design makes them ideal for creating a half updo, a hairstyle that combines simplicity and sophistication.
Three-legged hair stick are the perfect choice when you want to both hold your hair in place and add a touch of style.